Madhu Jain
K-1416 Palam Vihar
Gurgaon 122017
India
Tel ++ 91-124-4077755

Cell : ++ 91- 9811585966

E-mail: madhuart@gmail.com



CURRICULUM VITAE

| | |
| --- | --- |
| 1947 | Born in Jaipur, Rajasthan, India. |
| | |
| 1963 | Initiated into arts at the Sarda Ukil School of Arts, Janpath, New Delhi, India. |
| | |
| 1967 | Graduated B.Sc., Home Science, Lady Irwin College, New Delhi, India. |
| | |
| 1994 | Took a course in Sumi-e (Ink Painting) at Baptist Church School, Tokyo, Japan. |
| | |
| 1995-97 | Studied and researched Nihonga (Japanese style rock pigment painting) at the NHK Bunka Centre Aoyama, Tokyo. |


OTHER HOBBIES
| | |
| --- | --- |
| Gardening | Received prizes in garden landscaping. |
| | |
| Cooking | Fond of experimenting and vegetable carving. |
| | |
| Bonsai | Received training at Yuzawaya School, Kamata, Japan. Conducts workshops on Bonsai culture. |
| | |
| Music | Light and classical music, graduated 3 years from Gandharva Mahavidhyalaya in classical music. |
| | |
| Instrument | One year course in Yamaha organ from Community School, Singapore. |
| | |
| Sports | Swimming, badminton, Netball, Throwball. Basketball Delhi State champion, Royal Club '66. |
| | |
| Language | Passed 2 levels of Japanese language proficiency tests conducted by Japan Foundation and the Association of International Education, Japan. Studied and passed upto Advance Level 2 at the Japan Information and Cultural Centre, New Delhi. |

MY FAMILY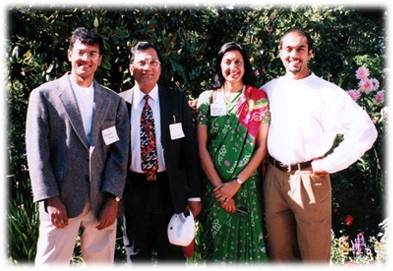 Mine is a small, dynamic, energy and talent packed family of four. Geographically far apart, electronically close knit, looking for adventurous holidays together, meeting in remote places where all of us converge and get wonder-struck when everything gets amazingly synchronised and plans fall in place.

Bhushan, my husband, a senior bureaucrat, golfer and a singer, has steered the family into what it is now and we all are his pride. The little pushes he gave me at the right time of my formative years carried a long way and the rest was destined to be. He is still my best critic and support, whenever need be.

Maneesh, my elder son, is a Physicist(Ph.D) from California Institute of Technology and Stanford University. He has co-founded a company, Parallele Biosciences, which sequences human genes. He so keenly pursues outdoor sports like roller blading, mountain biking, windsurfing, scuba diving, marathons and bike rides that we tend to forget the great genius in him as a scientist.

Sandeep, the younger son, received his BS and MS in Computer Science from Stanford University. He works in Silicon Valley. His main stay is music. He formed his own band Acapella at Stanford, created a fusion of Jazz and Indian classical music, calling it the tandoori mix, made a computer graphic animated movie, and gives guitar performances.

Nadya, my daughter-in-law, did her Post Doctorate in Clinical Psychology from Stanford University. She joined us in the New Millenium year 2000. Now, when we all sit together, just imagine the range of talks from art, politics, genes, human computer interactions, and human minds!! A family with each component so diverse, yet in harmony, as it abounds in care and concern for each other.

All of them have taken great interest in my pursuits and I feel truly blessed. There is really nothing I want except for Divine blessings to keep us like this, enabled and humane and in a position to contribute to the world our own little bit.